Calli's Corner is Expanding. A fabulous new range of venues to get your stunning Silver Fingerprint Jewellery, Ceramic Handprints and 3D Casts made.
It is with great excitement that I am able to announces the expansion of the East Cheshire and South Manchester Calli's Corner Franchise. We now have a fabulous range of different venues displaying our work and taking appointments across the area. With the run up to Christmas coming Calli's Corner will be visiting each of the stores and cafes for special Event Days. Along with Calli's Corner Silver Fingerprint Jewellery and Ceramic Handprints and 3D Casts each venue has been carefully selected because of the gorgeous things they also have on offer. Make sure you check out the venue nearest you!
To book in any of the following venues you can either:
Visit the booking page on our website.
Contacting or visiting the stores.
You can now find us in Poynton, Bramhall, Congleton, Holmes Chapel, Hazel Grove, High Lane, Wilmslow, and Disley, and more coming soon.

The Village Lantern is a must if you are looking for a really lovely gift for someone special. They sell everything from jewellery to christening presents, beautiful household gifts and even a selection of scarves and clothes. Now our fabulous Ceramic Handprints and Jewellery are on show beside their range. You really won't be able to leave without buying something!
Little BigHeads is the cutest ever hairdressers based in Bramhall Village Square and Wilmslow Centre. They have specially designed children's chairs, fully qualified hairdressers, mini TV screens, dedicated playrooms, complimentary juice, water or even their own BigHead babychino. On top of all this they hold parties and face painting, temporary tattoos and mini manicures are available too! A fantastic range of Calli's Corner samples are on display in the Little Bigheads window in Bramhall and the Wilmslow salon also has lovely examples for you to see.
The Flower Gallery in Congleton is not just any florist but a destination itself. The fabulous guys in the shop will really look after you. Not only are the flowers stunning but they also dedicate half the shop to a stunning range of gifts. I struggle to walk out of there empty handed. Calli's Corner have been given an amazing display space for you to enjoy our work. The Hand Casts and Ceramic Prints would be a lovely gift for a new baby or Christening to go along with the beautiful flowers you are buying.

Molly & Boo is a stunning premium nursery shop. They really do stock the best of the best at really reasonable prices. All of you Mum's and Dad's to be need to visit. They sell pushchairs, car seats, changing bags, nursery furniture, bedding, toys, clothes, beautiful gifts and now the whole Calli's Corner range. Well worth a visit.

Mimi's is a brilliant baby boutique set in the eclectic Knutsford Indoor Market. Fantastic quality at brilliant prices. The lovely Milly will help you with anything you need and if he's awake the absolutely georgeous Ezra is bound flash you one of his adorable smiles. They stock everything that you could possibly want baby and toddler related. You can make appointments there to get your Calli's Corner prints taken and examples of all our different ranges are on display. Milly also frequently holds fun event days with special guests. She's had a visit from Mark the Minion and Peppa Pig so far and I know someone special is planning a visit before Christmas!

The Cinnamon Bear Tearoom has to be the best (and obviously my favourite) Coffee Shop nearby. If you haven't been yet the you really must make the time to go. Not only does Sarah make the best cakes ever she sells superb quality tea and coffee. I would recommend a cappuccino to wash down an amazingly moist Toblerone cupcake or a slice of her coffee and walnut cake. Again The Cinnamon Bear has a lovely range of Calli's Corner samples. Silver Fingerprint Jewellery and  Ceramic Handprints are on display.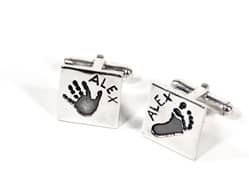 Bumkins Designer Kids is a top of the range store in Altrincham. Super cute clothes and accessories always in stock. Your kids really will look fabulous in their clothes.
Walkeeze offer a great service for all your pets needs from Dog walking to puppy visits, home boarding, doggy day care, small animal visits. The lovely Louise and her team will treat your pets like their pets. Walkeeze specialise in our Calli's Corner Pet Range but all other products can be booked through them too.
Little Betty's Boutique is Hazel Grove, well what can I say 'Wow, Wow, Wow'. Take your little Princesses there (and Prince's for their prints!). Your little girls really will be in heaven being made into the prettiest little things ever.